Holidays in Anterselva – Farm Steinzgerhof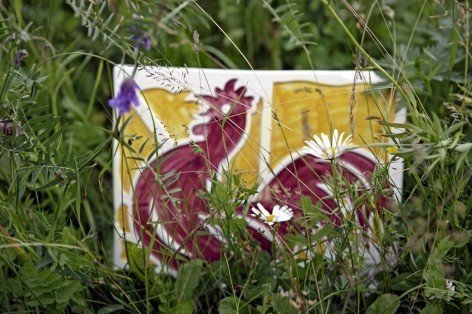 Nestled between the mighty peaks of the Vedrette-Ries Group and the rugged crags of the Dolomites, there is the farm Steinzgerhof in Anterselva. The farm carries the seal "family farm", which is exclusively granted to farms that are family owned for generations. On a sunny hillside and at an altitude of 1,440 meters, the farm Steinzgerhof offers ideal conditions for a relaxing holiday in the countryside.
Holiday apartments on a farm in Anterselva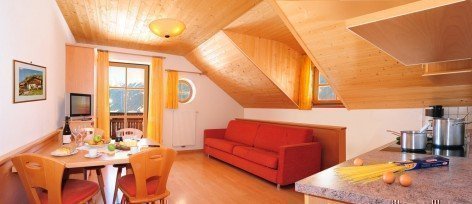 A cosy atmosphere and modern comforts await you in the holiday apartments on the farm in Anterselva. In 2006, the main building of the farm has been rebuilt and expanded by three spacious apartments. One apartment is designed for 2-6 people; the other two units offer space for 2-4 persons. Living comfort and an inviting ambiance have the highest priority. The wood creates a cosy atmosphere. The living room is combined with a fully equipped kitchen and fitted with a satellite TV. The large bathrooms are equipped with shower, toilet and bidet. The two large holiday apartments on the farm in Anterselva each have two separate bedrooms.
Holidays in the Anterselva Valley: Rural idyll on the farm Steinzgerhof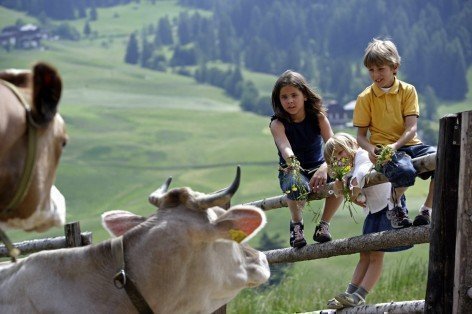 In the rural and peaceful surroundings of the farm Steinzgerhof you will soon forget the stress of everyday life. Cows, horses, rabbits, cats and a dog live on a farm. Upon request, you will be provided with fresh milk from the farm. Enjoy the quiet country life, and if you like, you can actively participate in the daily activities on the farm.
Exciting holidays in Anterselva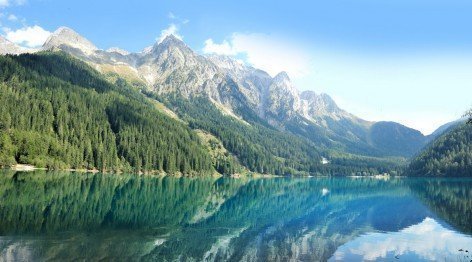 Many experiences in the pristine nature of the Anterselva Valley expect you during your holiday. Beautiful hiking trails start right behind the farm. The peaks of the Dolomites and the Vedrette Group invite you to rock climbing tours. The Anterselva Lake is the third largest lake in South Tyrol and is located at the end of the valley at an altitude of around 1,600 meters. Mountain bike trails and hiking paths lead around the crystal clear waters. On the nature experience trail or during a guided herb walk, you will learn about the flora and fauna in this region. Your holiday apartment on the farm in Anterselva is the ideal starting point for your activities. Swimming, biking, fishing, hiking and playing tennis – the Anterselva Valley offers an abundance of varied leisure activities surrounded by the sublime scenery of the South Tyrolean mountains.